Medical Grade Tantalum Beads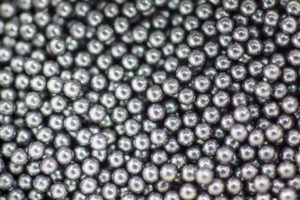 X-medics offers a wide range of medical grade tantalum beads
The beads offer good radiographic opacity and excellent bio compatibility. They are suitable as orthopedic markers and target beads as they are characterized by a good sphericity and a well-defined diameter. The beads have adequate mechanical properties to withstand the impact of insertion. Tantalum spheres, tantalum balls and tantalum beads are synonyms for identical products.
3rd-party biocompatibility testing of beads by independent ISO 17025 accredited laboratory
Ensuring optimum biocompatibility of X-medics beads is a primary focus of ours. X-medics is therefore collaborating with an ISO 17025 accredited laboratory and may offer independent ISO 10993-5 cytotoxicity tests to validate the product purity. Documentation will accompany all products shipped. » More about this
3rd-party material testing by ISO 17025 accredited laboratory now standard
The material used in the production of the beads is tested by an independent ISO 17025 accredited laboratory to confirm that all materials satisfy the requirements of the relevant industry specification (e.g. medical grade tantalum composition in ASTM F560 / ISO 13782). A certificate of conformity accompanies all materials shipped. » More about this
ASTM F86 Cleaning & Passivation
ASTM F86 cleaning and passivation is standard on X-medics tantalum beads, carried out by a specialized ISO 13485 certified facility for medical device cleaning in Switzerland. A certificate from the cleaning facility accompanies all products shipped. » More about this
Beads are available for instant shipping from stock. The spheres are offered in 500 pcs packaging for convenient handling and storage in production.